Details
SMART HOME
The simplest and most customizable user interface.

LG Smart TV's all new Smart Home comes with an improved design, offering greater simplicity and more room for customization.
MAGIC REMOTE
Universal Control, Pointing, Wheel, Gesture, and Voice – the most convenient and advanced TV remote.

Universal Control : Control and access your set-top box, speakers, BDP, and even satellite TV with a single remote, a one-stop solution for maximum convenience.
Pointing : Just point and click--a smart remote for your smart tv.
Wheel : Scroll up and down, zoom in and out with a wheel - just like using a computer mouse.
Gesture : Make a simple gesture to perform complex commands, saving time.
Voice: Speak to your Remote to find what you want.
TIME MACHINE II
You don't have to worry about missing your favorite shows anymore.

With the newly updated version of the LG's popular Time Machine feature, TV programs can be recorded so that you can rewind, pause, or re-watch your favorite shows.
- Internal Recording : Record shows right on the TV's built-in memory card.
- Watch & Record : record a TV show while you watch another channel.
- Live Playback : play, pause, rewind, save and rewatch your favorite shows on an external hard drive.
- Scheduled Recording : reserve a show you can't miss by scheduling a recording in advance.
PREMIUM CONTENT
The best selection of enjoyable content provided for you to access with ease.

The Premium Content card selects and categorizes the most popular and useful content in your country, provided via partnership with the best content providers. Enjoy the best entertainment whenever you want.
GAME WORLD
Enjoy a virtual game console inside your TV.

LG Smart TV's Game World brings tremendous amount of fun with many games to download and enjoy. Within it await unlimited possibilities for gaming entertainment thanks to LG's patented Magic Remote, which is much like a console controller. Welcome to the groundbreaking union of TV and game console!
SMART SHARE
Browse and share files from external devices wirelessly on your large TV screen or watch TV on another smart device with LG Smart TV's Smart Share. LG introduces a true Smart TV that connects to other devices more easily than ever. Enjoy any content without constraint.
MHL
Connect and watch HD content from your phone on the TV's large screen with your MHL cable and control it with the TV's Magic Remote. The phone is also charged while it is connected.
MIRACAST™
WiFi Alliance certified MiracastTM allows you to enjoy easy and fast connection among TV, Smart phones, and Tablets without wires, enabling easy transfer and sharing of your digital contents right on the TV screen.
TAG ON
Sharing between your mobile device and your television has never been simpler with Tag On, a feature that allows mutual content sharing and mirroring by simply "tagging" the smartphone to an NFC sticker provided with the TV.
WIRELESS DISPLAY (WI-DI)
Intel's WiDi (Wireless Display) technology enables easy and fast connection between TVs and Laptop PCs without wires or internet network.
IPS PANEL
Knock it to know it.

The secret behind LG TV's superior viewing angle and quality is the panel. Just as the
quality of the beans determines the quality of the coffee, the quality of the panel determines the quality of the TV. The IPS Panel used by LG is the reason why LG LED TVs have clearer, more consistent, and sturdy screens.
LED
Brilliant LED backlighting display delivers crystal-clear images, true blacks, and the most vivid, life-like colors on a slim screen.
DYNAMIC MCI 100
Motion Clarity Index is a comprehensive indicator of the genuine clarity of fast motion display, incorporating factors beyond mere frame rates. LG's detailed backlight scanning, advanced local dimming and powerful engine all add to a superb performance in reducing blur in fast-moving pictures.
TRIPLE XD ENGINE
excellence in Color, Contrast, and Clarity for the best picture quality and performance.LG's latest and most advanced Triple XD Engine brings the highest level of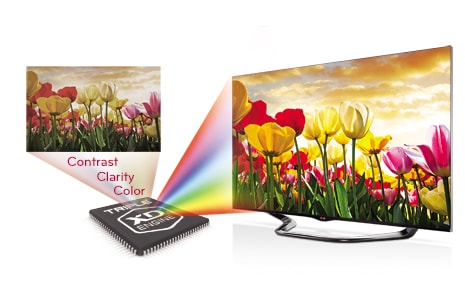 RESOLUTION UPSCALER
Viewers can enjoy your content in high-resolution.
Very often is the case that external content from the net or devices look bad on TV due to low resolution of the files. LG provides a solution with Resolution Upscaler, which magically improves the resoltuion of orginal content and makes them look good on the big screen as well.
CLEAR VOICE II
Clear Voice II automatically recognizes and enhances the volume of human
voices in movies and shows to make them more audible against background
sound.
SMART ENERGY SAVING
The Backlight Control function controls the brightness of the TV. The Screen Off function lets you switch off the screen while keeping the audio on. Standby Mode Zero function sets your TV to a power saving mode where zero electricity is used.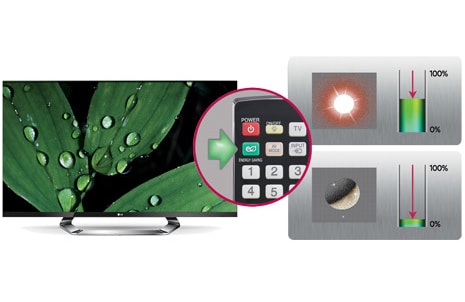 HDMI
Consolidation of HD video, audio, and data in a single cable enables high speed communication.
USB 2.0
Connect your digital camera, M-P-3 player or USB stick through the USB port to show off your latest holiday snaps, music collection or High Definition movies for a true multimedia experience.
2nd TV Ready
App Store
AV Input
AV Out
Camera
Component
DLNA
Freq
HDMI
LAN
Magic Motion Remote
Mira Cast
Mobile HD Link
NFC
Premium Content
Resolution
Time Machine
USB
Wi-Fi Support
Wi-Di
Wi-Fi Direct
Yes
Yes
1
Optical
Accessory
1 (Common with AV)
Yes
MCI 100
3
1
4 Mode Premium Built In Dongle
Yes
Yes
Yes
Yes
32" HD FHD
Yes
3
Built In
Yes
Yes
Additional Information
| | |
| --- | --- |
| Manufacturer | LG |
| Price | PKRs78,499.00 |