Details
Clinically proven to reduce colic and discomfort *
30 years of trust
Our classic bottle has been trusted by mothers for 30 years and remains the preferred choice of many. It is designed to provide a pleasant and comfortable experience; It is clinically proven to reduce colic and discomfort. *
Features
Easy grip due to the unique valve located in the teat
The unique valve nipple flexes to the pace of infant feeding. The milk will only flow at the pace you choose for your baby and can reduce overeating and prevent the baby spit, belch or remove gases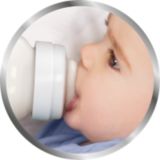 Reduction clinically proven irritability
Sleep and nutrition are vital to the health and happiness of your baby. Has been conducted to determine if a randomized design bottles influencing the behavior of babies clinical trial. The Philips AVENT Classic bottle showed a significant reduction in the irritability of approximately 28 minutes per day, compared with a bottle comparison (46 minutes vs. 74 minutes, p = 0.05). These results were noted especially at night. **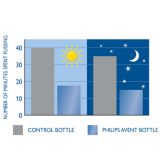 Ergonomic shape for maximum convenience one
Due to its unique shape, the bottle is easy to hold and sustain in any direction for maximum comfort, even for small baby hands.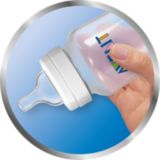 System anticólicos clinically tested
As your baby feeds, the unique valve teat flexes to allow air into the bottle instead of your baby's tummy. ***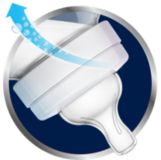 Compatible with Philips AVENT online
The Philips AVENT Classic bottle is compatible with the product line of Philips AVENT except natural bottles. We advise that you only use the classic bottles with teats classic.
Easy to use and wash, quick and easy assembly
The wide neck bottle allows for easy filling and cleaning. The assembly is quick and easy, because few pieces.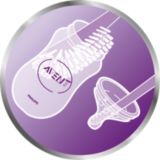 Teats of different flow rates available
The Philips AVENT Classic bottle offers different flow rates to move in line with the growth of your baby. Remember that age indications are approximate as babies develop at different rates. All teats are available in twin packs.

Always use the adapter ring
Remember to always use the Philips AVENT Classic bottle with adapter ring (included with every Philips AVENT Classic bottle).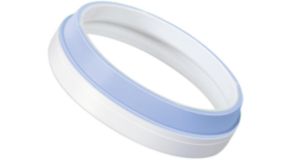 This bottle is BPA *
The Philips AVENT Classic bottle is made from BPA free materials * (polypropylene).
Highlights and specifications
| | |
| --- | --- |
| Subjection | Easy clamping nipple promotes acceptance |
| Teat | Two piece anti-colic, is flexed as the feed rate |
| Bottle design | Ergonomic shape, Wide neck |
| Bottle use | Easy to clean, Easy to use |
Technical Specifications
Bottle
Material:

BPA *
Design
Bottle design:

Ergonomic shape, Wide neck
Milestones
Milestones:

0 to 12 months
Easy to use
Bottle use:

Easy to clean, Easy to use
Easy to use:

Suitable for microwave and dishwasher, 5 pcs
Functions
Fixing:

easy clamping, nipple promotes acceptance

Teat:

anti-colic system two piece is flexed as the feed rate
Material
Bottle:

BPA * Polypropylene
Teat:

BPA * Soft silicon
Content
Bottle:

2 pcs
Compatibility
Compatible with:

Breast Pump, VIA cups and teats classic
Additional Information
| | |
| --- | --- |
| Manufacturer | Philips Avent |
| Price | PKRs1,775.00 |